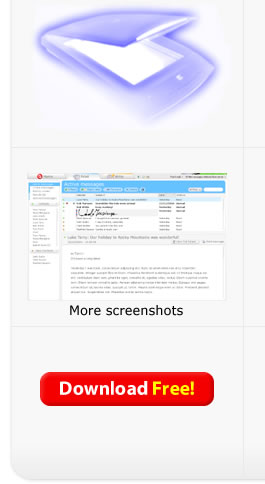 With Quillia Mail, sending an e-letter couldn't be easier: Put it in your scanner, and just click "scan". Your e-letter is ready, its size is optimized for sending, its look is optimized for reading: You only need to select your recipient, and click "send". No more complicated scanner interfaces, no more difficult graphics software: Quillia Mail will make it automatic and easy.

Quillia Mail isn't just the easiest way to send e-letters: It is a complete email solution, specifically designed to help you manage your personal email without being a computer expert. Quillia Mail will give you only those features you need, when you need them.

Quillia Mail comes with a free, automatically configured mail account. You don't need to know about any technical piece of information: Just choose your email address, and we will take care of the rest. Click on the "download" button on the left to get Quillia Mail - it's free!